Certiport Names Adobe Certified Associate World Champion from Taiwan
DALLAS, TX – August 13, 2015 - Certiport (www.certiport.com), a Pearson VUE business, the leading test delivery solution provider for the global workforce and academic markets, today announces the 2015 Adobe Certified Associate (ACA) World Champions, culminating the annual competition designed to showcase digital communications skills and promote industry certification. Li-Hsin Hsu from Taiwan won the top prize out of 33 finalists from 17 countries. Li-Hsin was sponsored by Elite-IT.
The 2015 ACA World Champions are: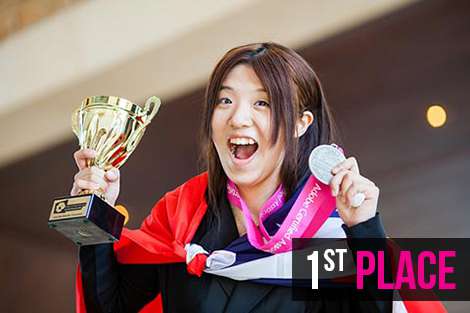 Li-Hsin Hsu, Taiwan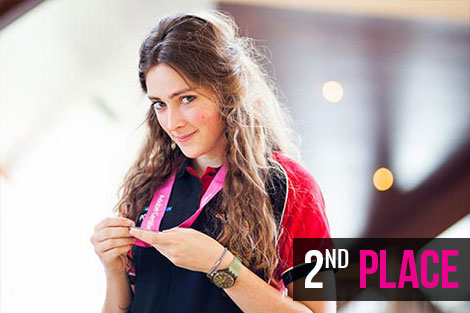 Tiffany Onderstall, South Africa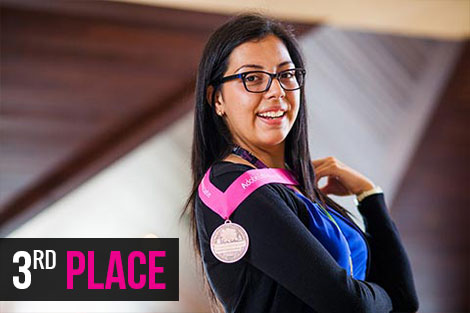 Maria Valarezo, Ecuador
Fourth place and People's Choice Award, Yen-Ting Su, Taiwan

Fifth place, Tam Weng Lam, Macau

Sixth place, Danupong Longsakunnee, Thailand

Seventh place, Calvin Hui, New Zealand

Eighth place, José Bernardo Purón Rodríguez, Mexico

Ninth place, Cheong Wai Lam, Macau

Tenth place, Pei-Wei Guo, Taiwan
Certiport and Adobe sponsored the ACA World Championship and Room to Read served as the client for student entries in Dallas, Texas from August 9-12, 2015. The third annual ACA World Championship attracted more than 88,000 entries in total. Students were judged on their creative and technical skills, as well as their ability to take and follow instructions and communication from the client, and implement Room to Read's vision and message.
"We see increasing demand for digital skills worldwide, and the ACA World Championship promotes those skills and gives students an outlet to inspire creativity," said Bob Whelan, president and chief executive officer for Pearson VUE. "The number of entries increased in the competition's third year as students realized the benefits of earning Adobe Certified Associate certification to validate in-demand digital design skills. Li-Hsin should be proud to be named best in the world and we know the accomplishment will bolster her resume even further."
Room to Read is a non-profit organization for improving literacy and gender equality in education in the developing world. During the Championship Round, contestants were assigned a banner design challenge from Room to Read to which they responded using Adobe Photoshop CC, Adobe Illustrator CC and Adobe InDesign CC software. View all final banner entries here.
"We were very impressed with the final Room to Read banner entries – they demonstrated talent, creativity, and professionalism at a high level," said Steve Cox, associate director of marketing for Room to Read. "We enjoyed participating in the judging process and hope to utilize the winning entries as we promote our mission to help all children pursue a quality education."
An impressive panel of judges from the design industry reviewed contestant designs. The first, second and third place winners were selected based on design score, and were awarded scholarship money ($5,000, $2,500, $1,000), Adobe software, and computer hardware prizes. Honorable mention scholarships of $250 were given to fourth through tenth place with an additional $250 for the People's Choice Award as voted on by event attendees.
"We love participating in the ACA Championship because it is a fantastic opportunity to celebrate rising creative talent. Young people from around the world are earning ACA certification and demonstrating the creative and technical skills needed for career success," said Tacy Trowbridge, education programs lead, Adobe. "We congratulate Li-Hsin and the other finalists and look forward to their future success. Adobe is also thrilled to collaborate with Room to Read to provide a real-world context for this competition while supporting a great cause."
Next year, Certiport will host the 2016 Adobe Certified Associate World Championship in Orlando, Florida. Download high-resolution photos of the winners here. View video interviews with the first, second, and third place winners. The hashtag for the event is #ACAWC.
About Certiport
Certiport, a Pearson VUE business, is the leading provider of certification exam development, delivery and program management services delivered through an expansive network of over 13,000 Certiport Authorized Testing Centers worldwide. Certiport manages a sophisticated portfolio of leading certification programs including: the official Microsoft Office Specialist certification program, the Microsoft Technology Associate certification program, the Microsoft Certified Educator program, the Adobe® Certified Associate certification program, the Autodesk Certified User certification program, the Intuit QuickBooks Certified User certification program, and the IC3 Digital Literacy certification. Certiport reliably delivers over three million tests each year throughout the secondary, post-secondary, workforce, and corporate technology markets in more than 148 countries and 27 languages worldwide. For more information, please visit www.certiport.com or follow Certiport on Twitter at www.twitter.com/certiport.
"Certiport" and "IC³" are registered trademarks of Certiport, Inc. in the United States and other countries. The names of actual companies and products mentioned herein may be the trademarks of their respective owners.